De La Salle Lacrosse

NCS Champions: 2007, 2009, 2010 and 2014


For the 2015 Indoor and 2016 Outdoor seasons
please see the DLSHS website for details
See: www.dlshs.org


Spartans Win U17 Championship
at the All-West Tournament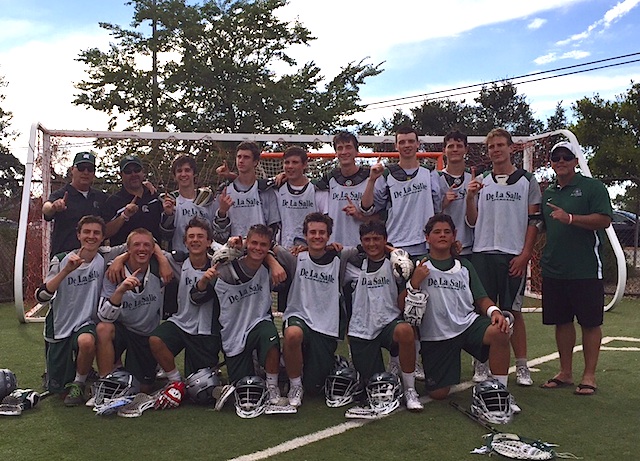 Matt Huguet, Ryan Charlson, Nate Rumpf, Alex Lea, John Burke, Eric Headley, Rob Reigelman, Matt True, Nathan Kerns, Michael Balousek, Quin Seivold, Brad Morucci, JordanGutierres, Josh Thuma, Tyler Tuescher (not pictured), Jack Kennedy (not pictured)

Go For Broke


2014 NCS Champions
Spartans over San Ramon
Game Score: 11- 5

The Spartans dedicated our season to Saundra Garcia who is battling breast cancer.
We have seen first hand what cancer does to someone and their families
and we would gladly trade all our wins for a cure to this deadly disease!!!
2014 Bandits & Rebels Win

NorCal Indoor Championships
For more information on our Box program. See Box
Spartans Help

Monument Crisis Center
move into their new home!!!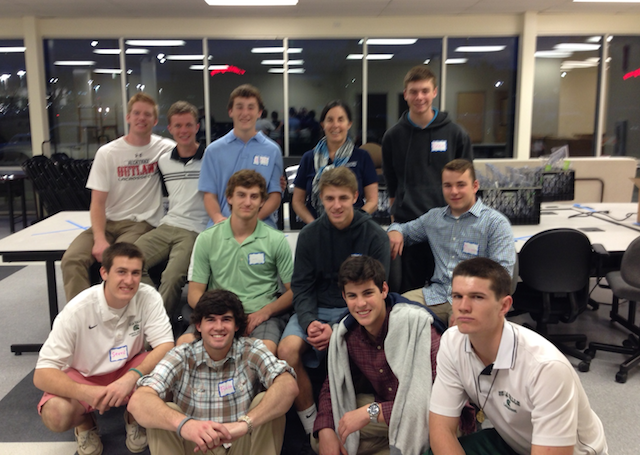 Mitch Olinger, Connor Kafka, Eric Morgan, Sandra Scherer (MCC Director), Brian Buckley,
Jack Loftus, John Perlite, Dominic Galli, Stephen Wilm, Brett Inglesby, George Waidelich,
Christian Mulligan and Matt VanderKlugt (left behind to help clean up their old location).
Monument Crisis Center helps 5,000 families and elderly get by each week.

Sometimes it's the little things we do that mean so much to others!!!
Spartans Go 6-2 At UNC
Summer Record: 13 - 2

Spartans Win U19 All-West Tournament
U17 Rebels Take 2nd Place at All-West Tournament

Our Spartan Heroes!!!
Frosh/Soph Team Finishes Season with 7 - 2 Record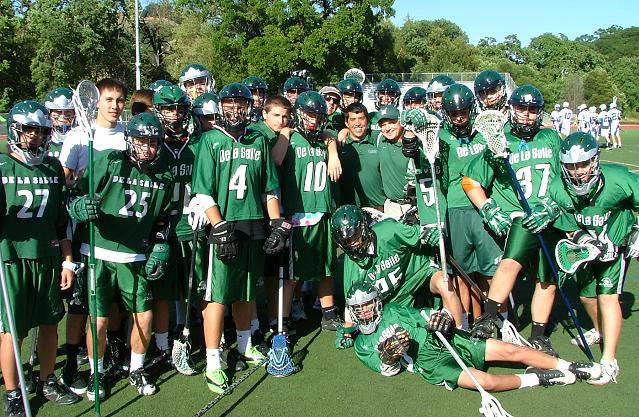 Congratulations to our Coaches!!!
Brian Evans, Tim Fuller and Mike Schwarz
Spartan Alumni Team
2011 Team Xiphos in San Diego
Lose to the Salt Shakerz 6-5 in the Quarter Finals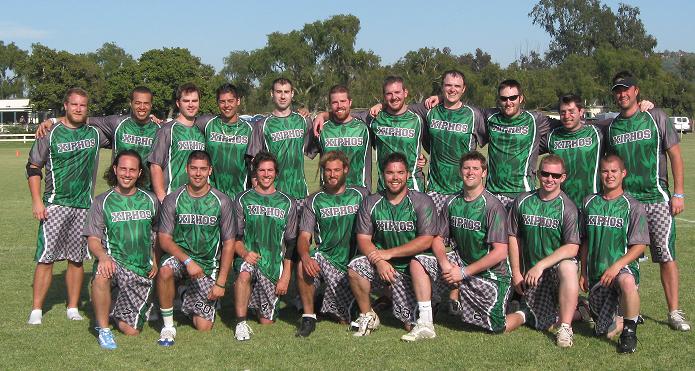 Top Row: Chris Bernard, Marcus Wooden, Dan Platt '04, Mike Vila '03, Rob Franceschi '05, Scott Duyn '05,
Tyler Hester '05, Trent Barmby '03, Mickey Meehan '04, Dan Callahan '04, Josh Kohler
Bottom Row: Dan Vilar, Joe Vila '03, Dan Vinson '04, Bradford Goshorn '05, Erich Faustman '03,
Colin Mason, Eric McVey, Austin Silva '03
Xiphos is the name of the sword the Spartans used in battle.
Berkeley & Santa Clara Alumni
do Battle in a Thriller
Berkeley over SCU 8 - 7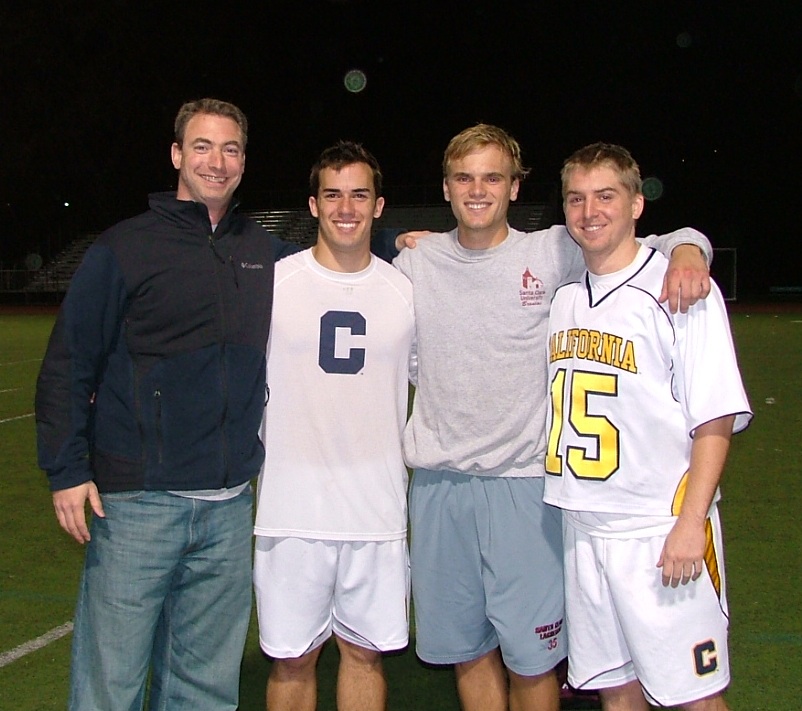 Coach Brian Giovanola '07, Stephen Llevano '08, Nick Breska '07, Casey Keenan '08
2011 Alumni Game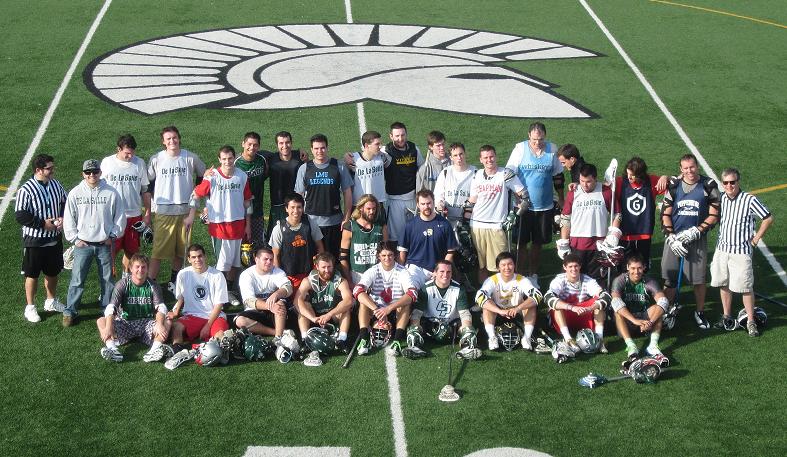 Garrett Garcia'10 (Oregon State), Nick Richards'09(UPenn), Andrew Bruce'09(Ithaca), Matt Pereira'09(GW),
Mike Vila'03(Chico), Mike Mullarkey'05(LMU), Andrew Llama'03(LMU), Kevin Leatham'09(LMU), Mickey Meehan'04(Vilanova),
Mike Richards'10(SDU), Vinny Coric'10(Portland), Kyle Johnson'10(MIT), Trent Barmby'03(USC), Stephen Llevano'07(UCB),
Giuliano Sanchez'10(Messa State), Laki Sotiropulos'08(SMC), Mike Hurlbut'98(Peperdine), Casey Keenan'08(UCB),
Chris Pereira'10(SMC), Harrison Cooper'09(Sonoma), TJ Kelly'09(Reed), Patrick Wilhelmy'07(Boulder),
Bradford Goshorn'05(Hofstra), Dan Platt'04(Boulder), Zach Nickelmen'08(Chapman), Tim DeSimone'08(Cal Poly),
Kevin Woo'10(Dominican), Charlie Evans'11(Chapman), Joe Vila'03(Chico)
2010 Spartan Christmas Camp
We would like to thank everyone that participated in our Christmas Camp.
May your hard work and dedication be richly rewarded in the New Year.
We wish you all the best this coming spring.
"Play Like A Spartan"
In Memory of Gregory Simon
It is with great regret that I must inform you of the passing of a true hero
of the game Gregory Simon "aka Simo". He was one of the top College and High School
referees in Northern California. He always enjoyed refereeing our games because
we respected the game and everyone between the lines. He will be missed by all
the Spartans who have had the honor to be refereed by him. He will not be forgotten.
"May John Baptist De La Salle pray for Greg. Live Jesus in his heart forever."
Boiardi Foundation 7k Run
De La Salle Represented by Seniors
Ted Wilm, Connor Hunt and Ryan Eberspacher
The Mario St. George Boiardi Foundation honors the memory of Mario St. George Boiardi,
a Cornell lacrosse player that tragically lost his life during a game in March of 2004.
The Foundation's mission is to carry on George's work by empowering the next
generation through academics, athletics and service to others.
To read more about the Foundation please see boiardifoundation.org
This year's event raised money for the Lacrosse For Life Charity in San Francisco. See www.lacrosseforlife.org

Believe It!!!
2010 NCS Champions
Spartans over Foothill 11 - 10 (2OT)
For professional pictures from the Championship. See Championship Game
For other great pictures from the season. See www.calsportsphoto.com
We are most pleased to announce our
2010 NCS-CIF Scholar Athletes!!!
Varsity: Kaid Collins, Teddy Wilm, Christian Pereira, Kyle Price,
Nico Vanderklugt, Ryan Eberspacher, Connor Hunt, Eric McCosker,
Matt Corbin, Kevin Kuptz, Jack McCormick
JV: Coming Soon
Frosh/Soph: Alec Bruce, Chris Holland, Cameron Nyznyk, Jesus Avalos,
Thomas Reigelman, Daniel Rigley, Henry Valdez, Brandon Goulet,
Zach Hornbuckle, Griffin Shaw
Over 32% of our players maintained a 3.5 GPA or higher during this lacrosse season
NCSChampionship Game
For more pictures from the Championship game. See Pictures
NCSSemi-Final Results
Spartans over San Ramon
Score: 10 - 6
For more pictures from the NCS Semi Finals. See Pictures
To Our Best Fans
We Thank You!!!
Spartans Well Represented
at the WCLL Finals!!!
Cal Poly over UCB in the D1 Championship
St Marys over UC Santa Cruz in the D2 Championship
Click on the photo for an enlargement.
#16 Laki Sotiropulos'08 at St Marys, #10 Lucas Murillo'06 at UC Santa Cruz,
#28 Marc Del Prete'06 at UC Santa Cruz, #29 Tim DeSimone'08 at Cal Poly and
#15 Casey Keenan'08 at UC Berkeley
Welcome The Xiphos Alums
Xiphos goes 2 - 2 at the Jam By The Sea Tournament in San Diego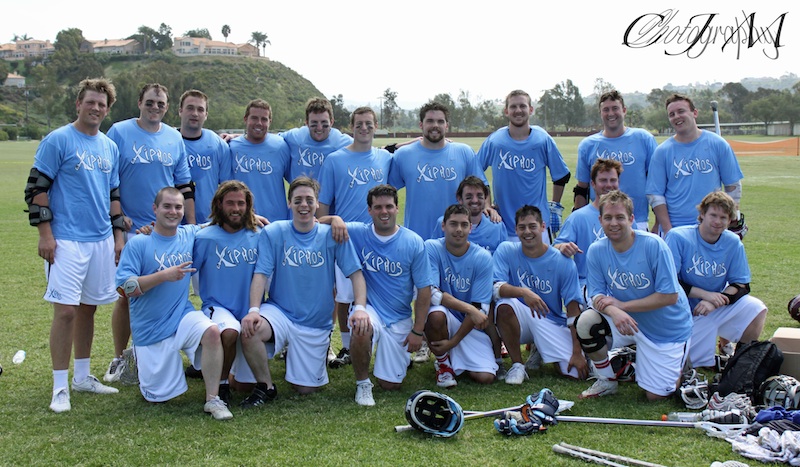 Back Row: Matt Anderson, Trent Barmby'03, Chase Brevoort'05, Scott Duyn'05, Mickey Meehan'04,
Julian Pissani'08, Eric Faustman'03, Tyler Hester'05, Josh Kohler, Matt Ward,
Front Row: Austin Silva'03, Bradford Goshorn'05, Patrick McCaffrey'04, Michael Connelly'08,
Joe Vila'03, Stephen Zuniga'03, Mike Vila'03, Dan Platt'04, John Well, Thomas Hower
Xiphos is the name of the sword the Spartans used in battle.
2010 Season Highlights
We Did It!!!
2009 NCS Champions
Spartans over Monte Vista 12 - 7
2009 NCS Championship Game
| | |
| --- | --- |
| | |
| | |
| | |
| | |
| | |
| | |
| | |
For more pictures from the NCS Championship Game. See Pictures
Dan Vinson '04 finishes
his face-off career at Georgetown!!!
with a 56% win ratio. Ranked as high as 6th in the country during the season.
Dan's hard work breaking into a top D1 program as a walk-on has paved the way for future Spartans!!!
2010 Spartan Christmas Camp
This is a fundamentals camp designed to teach our youth players what it takes to
be successful at the High School level and beyond. All fundamentals
are the same we teach our JV and Varsity players.
Last update: Thursday, January 10, 2013 02:24 PM
De La Salle High School, 1130 Winton Drive, Concord CA 94528 See Map